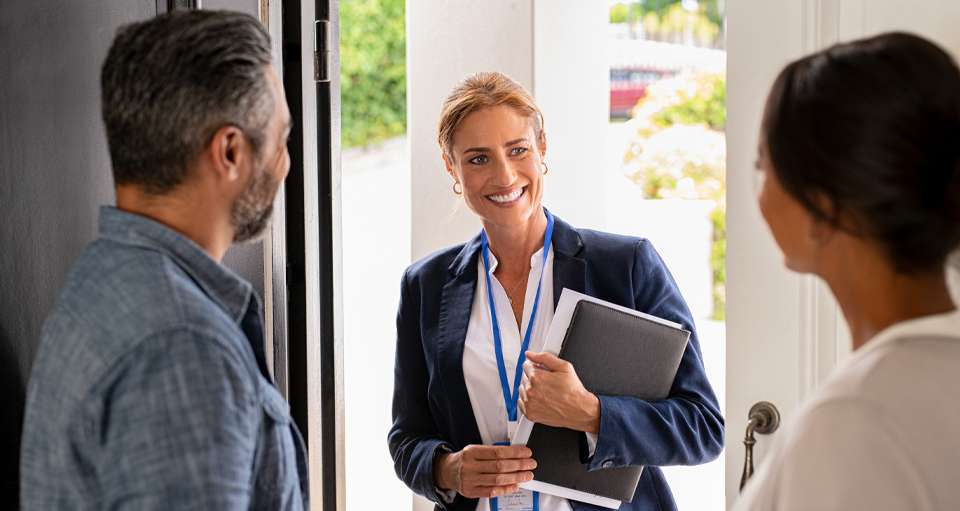 For real estate agents, door-knocking can be a powerful tool for cultivating relationships with potential vendors. However, it's also a lead generation activity that strikes equal parts of fear and dread into the hearts of agents.
We get it and we're here to help. In this article we share our favourite door-knocking tips and scripts to increase the success rate of your prospecting efforts.
However, it's important to remember that a good door-knocking script can only get you so far in real estate. The best agents in the game did not get where they are today by implementing 'special' dialogue. It's their mindset and ability to think differently when approaching every task that sets them apart.
As Dan Spencer put it, "If you think you are worthy of 10 sales, you'll decide to do something to get there." When it comes to door-knocking, it means having the positive mindset that 'every single home is on the market – it's just the motivated ones that have signs up'.
Without further ado, here are our top four tips for door-knocking, with example scripts to use.
1. Find a conversation opener
Pay attention to any changes in the street. Look for properties that are getting some fresh paint, renovation work done or have a skip bin out the front – it could be a sign they are preparing for a big move. It's also an easy conversation starter when you attempt to door-knock them:
"Hi, my name is [Your Name], with [Your Agency]. I noticed you had a skip bin out the front – are you looking to make a move in the near future? I'd love to see if I could help by sourcing something to meet your needs, or giving you an up-to-date report on what your property is worth?"
Even if it turns out they aren't selling, they could reveal some crucial information about a neighbour – "We're not selling, but the property across the road is becoming vacant soon, try get in contact with them."
2. Leverage hot buyers
One of the most powerful door-knocking scripts you can use, depends firstly on whether you have successfully built up a flock of hot buyers. It allows you to lead in with a completely different script:
"I've got someone that wants to buy your house, would you be open to me introducing that buyer to you?"
Being able to start the conversation like this is far more powerful than simply asking "Would you like a free appraisal?"
To source these hot buyers, an easy place to start is old buyers in your database, or old home open lists. Even if one person in your office called them before and got crickets, don't give up on them. Reach out with a script like:

"When we last spoke I can see you were interested in XYZ property, just checking in to see how things are progressing...I'm curious to see what made you enquire on that property, where are you currently located?"
3. Door-knock on your underbidders behalf
Buyers who recently missed out on a property are a powerful source of new leads. They have brought themselves to the broil and you know they are in real estate mode.
So ring them and say, "Tell me what properties you've looked at, tell me what you're interested in and I'll go door-knock that area for you."
The door-knocking script would then be very similar to the previous opener:
"I have a buyer who recently missed out on [Insert specific property address] who is desperately looking to buy in this area. Would you be open to selling in this market?
Of the ones you door-knock, 4 or 5 will say "No thanks", and 1 or 2 will say "It depends, how much are they willing to pay?". These are the ones you are looking for – flush out the maybes!
4. Harness the power of neighbourhood gossip
When you list a home, there's an opportunity in that moment to ask your vendor a simple question: "Who do you think in your street will sell next?"
The information they provide is often invaluable and can supercharge your door-knocking strategy. It allows you to utilise the following script:
""Hi, my name is [Your Name], with [Your Agency]. I'm currently working with the owner of [X Property address]. They mentioned you've been in the street for some time now, but are considering making a move soon. I wanted to introduce myself and see if I could send you a report about your property's current value and recent sales in the area?"
The right door-knocking approach can play a massive role in increasing your success rate in sourcing motivated vendors. But, it's crucial to remember that a winning script is only one part of the equation. Once the proverbial door has been opened, how you nurture and follow up that prospective vendor is what separates elite agents from the rest.
For tips on improving your seller conversion rate, check out our article, "Ultimate Guide to Winning More Listings [Tips for Real Estate Agents]