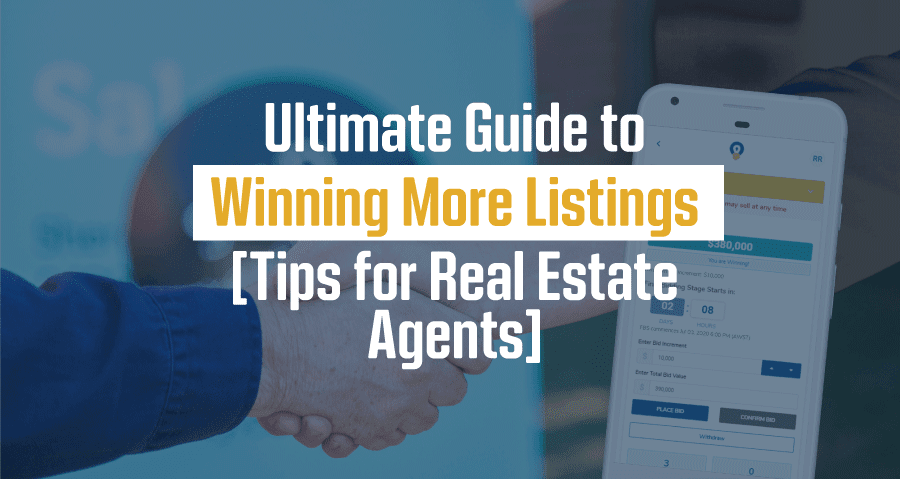 As a real estate agent, keeping your listings pipeline full is paramount. In this article, we dive into the 4 key stages of the appraisal process and provide tips, checklists and templates to help you land more listings.

Before thinking about how you can optimise your appraisal process and strategy, work out what your current appraisal-to-listing conversion rate looks like. This will help with identifying the areas you need to focus on improving. Some other questions to ask yourself are:
How fast is your response time to a new lead?

How do you nurture contacts that might not be ready to sell yet?

What actions are you taking between booking an appraisal and turning up at their door?

What does your follow up process after the appraisal look like?
The reality is, 50% of winning a listing is done before you even walk in the door.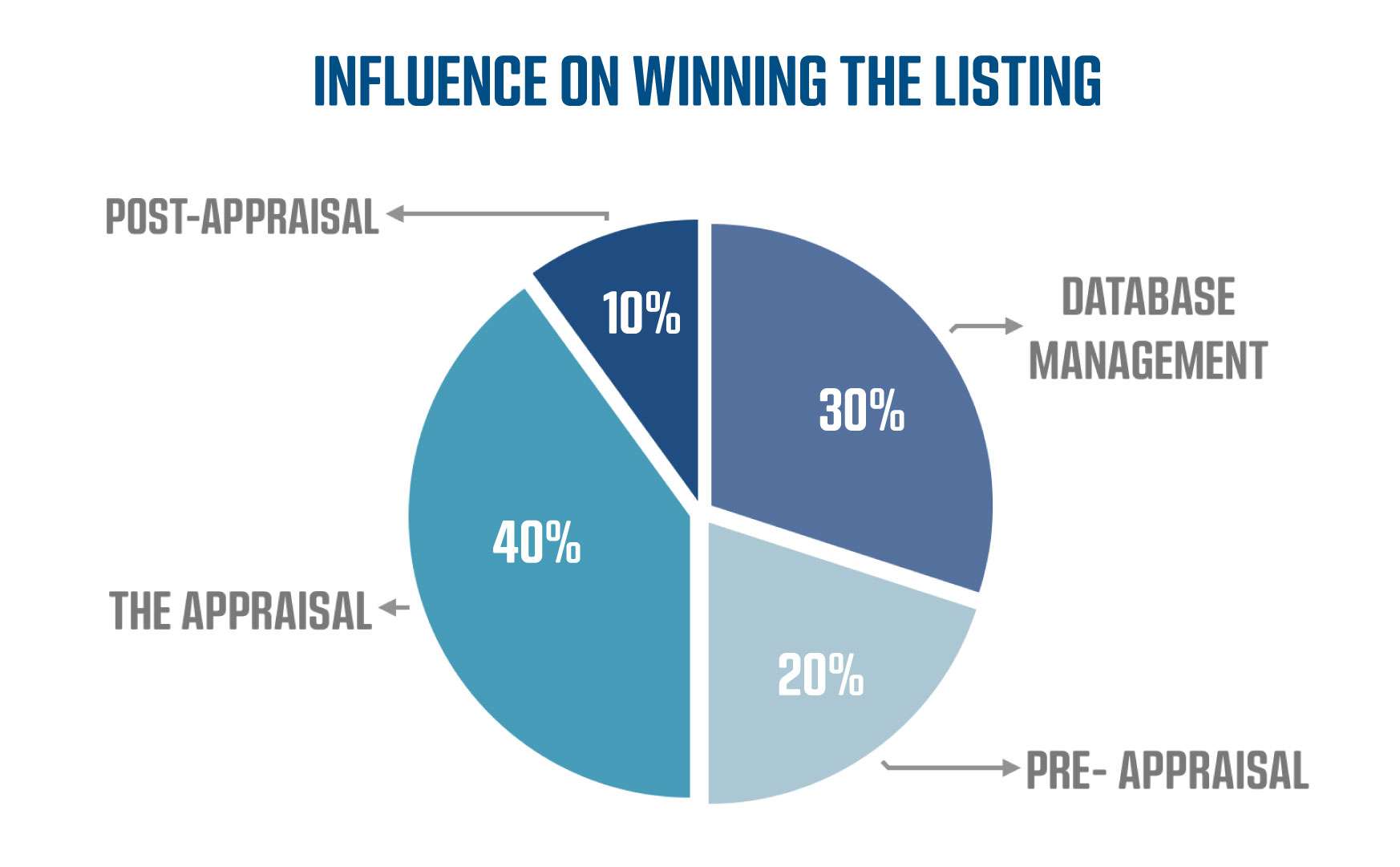 Let's take a look at these 4 influential stages of the appraisal process, and some of the actions and strategies you can implement to maximise your chances of securing the listing.
1. Database Management
If a seller doesn't trust you, they'll go with the cheapest agent. The key to building trust is frequency of contact and delivering value consistently. One of the most successful tactics is to leverage a homeowner's curiosity about the value of their home, via consistent market updates.
"The biggest thing I want to find is homeowners. If I get 10 people through an open for inspection and I get 5 homeowners, then I'll send them information about their house and what's selling in their area – like an auto-generated report.
"And every three months, they get the same auto-generated report that keeps them updated. We send out SMS's to people that live on the same street as a property we've listed, just to let them know that the house is on the market. We do it in the same neighborhood within 250 meters," said Ben Ridley, of First National Collie & Tierney.
2. Pre-Appraisal Preparation
To increase your chances of walking away with a signed listing agreement, preparation is key. Here is a quick checklist of actions to complete ahead of your next appraisal:
Complete a pre-listing call out form [View template]
Send a vendor questionnaire to help understand their needs and motivations [View template]

Prepare any listing tools and marketing collateral

Send an SMS beforehand with a link to an Openn explainer video
Below is an example of an SMS template to send: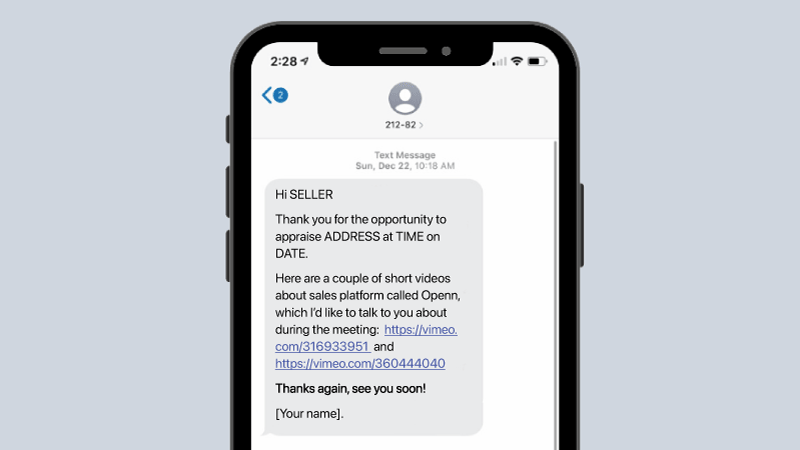 3. The Appraisal
Your listing presentation date is here – now what? Firstly, there's some basics to get right:
If you're on time, you're late –

get there 5 mins early.

First impressions last

– how do you greet them, do you shake their hand, do you offer to take your shoes off?

Take control subtly

– this person has had 1-5 appraisals, you know more than them.

Real estate is about people –

on the tour pay more attention to the people, not the house.

Focus on what's important to the client

– not what you think they want.
The Tour:
When the seller takes you for a tour around their property, it's your opportunity to get them to relax and open up before the formal sit-down. Here's a quick checklist of things to remember:



The Sit-down
To give yourself the best chance of converting the seller, here's a few things to remember:

During the sit-down, part of your agenda will be to discuss method of sale options. This is your opportunity to differentiate yourself from competitors by introducing Openn's digital sales processes.
For examples of vendor dialogue, plus a handy printable checklist, download our "Winning Listings with Openn: Appraisal Checklist" below:
4. Post Appraisal Follow Up
All your hard work will be for naught if you don't have a systematic follow-up process in place. Naturally, your approach will depend on your prospects' readiness to sell. People generally fall into three buckets:
"I just want to know what my property is worth" – no urgency to sell

"I need to sell asap" – red hot lead

"I'm thinking of selling in the next 2-6

months" – warm prospect
Regardless of where they are in the selling process, the most effective follow-up strategy is to simply become a source of information. For cooler leads, that could mean sending out an auto-generated report every 3 months with what's selling around them. For hot leads, you could leverage current campaigns you're running to give them confidence in your sales prowess.
Agents using Openn have found inviting a potential seller to Observe a live campaign to be a very effective follow-up strategy after an appraisal. Here's an example of an SMS you might send to a hot seller lead:

Ultimately there is no one-size-fits-all approach when it comes to the appraisal process. Every agent has their own style and indeed the best agents in the industry will constantly experiment with their listing presentation as the market changes.
Want more like this? Download "5 Ways Openn Generates More Appraisals for Agents" for bonus tips and dialogue to implement at your next appraisal: