Openn facilitates a more transparent process for buying and selling property.Our cloud-based platform keeps you informed about the negotiation in real time, allowing you to make confident decisions about buying or selling for the best price.
From the outset, our vision was to provide agents with the ability to use Openn to conduct any method of sale.
We began with Openn Negotiation, our unique hybrid process combining elements of traditional auction and private treaty methods, and we quickly expanded to include a pure private treaty solution in Openn Offers.
Whichever sales method you participate in, the basic process is similar: 
The agent uploads the property to Openn (and any other listing portals) and launches their marketing to start attracting buyers.

Enquiries flow in and the agent will direct buyers to the next open for inspection. If they have any interest in the home, they can register their interest through Openn. Buyers can be personally invited or directed to register in numerous ways.

Buyers find the property listing on Openn, submit some information including an opening price, their personal details and any terms.

The agent is notified and reviews the submission with the vendor, before approving the buyer which grants them a paddle number and the ability to participate in the negotiation.

The agent negotiates with all parties using the platform. Some methods will allow for a final offer or bidding stage which helps to bring the negotiations to a close.

If seller expectations are met, or the property hits reserve, it sells to the buyer, and progresses to receiving a deposit and executing a final contract of sale (which can be executed digitally through the platform)
Let's dive specifically into how the features of Openn Negotiation and Openn Offers differ.
Openn Negotiation
Openn Negotiation is a type of online auction, which allows flexible terms, and Openn Offers is a digital private treaty / sale. As a result, you need an auctioneer for Openn Negotiation but not for Openn Offers. 
In an Openn Negotiation, all bidders are pre contracted – which confirms their commitment to purchasing if they are the winning bidder and provides authority for the auctioneer to transfer their specific terms to the final contract and execute on their behalf.  
Because Openn Negotiation operates under Auction Law, the highest unchallenged bid above reserve wins. It also means there is no cooling off period for buyers. 
Throughout an Openn Negotiation campaign, there is full price transparency. And just like an auction, agents can and should update their advertising to reveal the current bid.  
Openn Offers
As Openn Offers operates under a private sale or private treaty legal framework, the agent is able to control whether qualified buyers can see the prices submitted by other buyers via an on/off app setting. If the app setting is turned on, then buyers can see where their offer ranks in terms of price, providing greater transparency than traditional private treaty.
An Openn Offers campaign does not require an auctioneer; however, (depending on your state) a cooling-off period may apply, and given it is not an auction, the agent would not reveal any prices outside of the platform. Only qualified buyers are informed of the price ranking through the app.
Openn Offers also allows the vendor, guided by the agent, to accept an offer which may have a lower price but more favourable terms.  They may also accept any offer at any time - which means they don't have to proceed to the final stage.
Shared features
There are a number of shared features the Openn platform offers across all sales methods. These include:
A countdown timer and final stage to help build anticipation, competition and bring each process to a close. 

The capability to turn on or off the registration of interest feature. 

Contract automation – so agents can execute the final contract of sale by uploading any document, applying the fields they've captured from buyers and routing it for digital signatures. 

The ability to embed a "make a bid" or "make an offer" button directly onto an agents' website and,  

A property report which can be automatically generated as a PDF at the end of the campaign with statistics on how the sale ran.  
That's a wrap! Hopefully this helps you to understand the key differences in features between the sales methods available on Openn.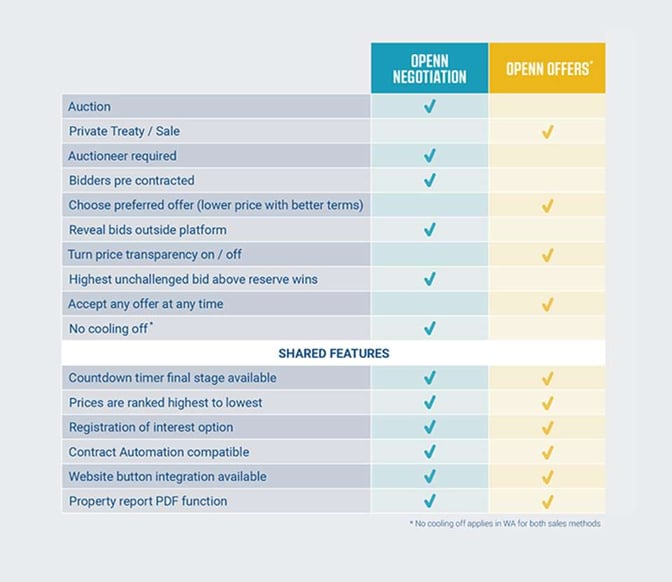 Real Estate Agents - want to learn more?
Book in a FREE demo to see how Openn can help you sell property more efficiently:


Related Articles
Blogs
Openn launches major app upgrade
Openn has released a major app upgrade – making transparent property sales even easier. With the release of Openn 3.0, it's faster to navigate the...