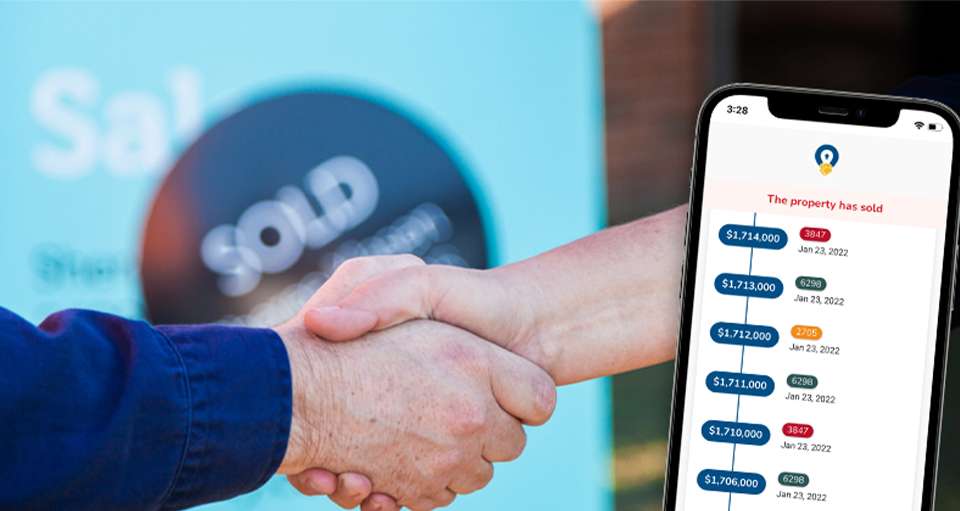 The real estate market can be an unpredictable beast – ebbing and flowing through seasonal changes, and at other times taking a complete nosedive during times of uncertainty. We're seeing more of a two-speed market right now, with Sydney, Melbourne, and Hobart cooling more quickly than Adelaide and Brisbane.
Regardless of how your own patch is performing, it's important to prepare for the impact a slower market can have on your bottom line, and your listing numbers.
Openn was founded in the midst of a challenging market. Despite this, it has proven to be a highly effective sales tool for agents in all market conditions.
Here are 4 ways Openn helps agents maintain revenue and an appraisal pipeline in a slowing market.
1.) Meet more ready-to-sell prospects
It's pretty simple. Contacts are king in real estate. The more buyers you can meet and capture during your property campaign, the better – because chances are many of them have something to sell themselves.
Openn's online auction sales process is particularly effective in creating a wider buyer pool, as buyers who would normally be excluded from a traditional auction, such as those with flexible conditions, can participate. This, coupled with the ability to allow buyers to transact end-to-end, online, from anywhere in the world, means agents truly maximise their listing's potential to build relationships with new ready-to-sell prospects.
Agents using Openn effectively get all of the benefits of a traditional auction process (transparency, no cooling-off, competition), plus they get more buyers on their properties.
Within the past financial year, Openn's average buyers was 5.06, while traditional auction data reported an average of 3.75 buyers during the same period.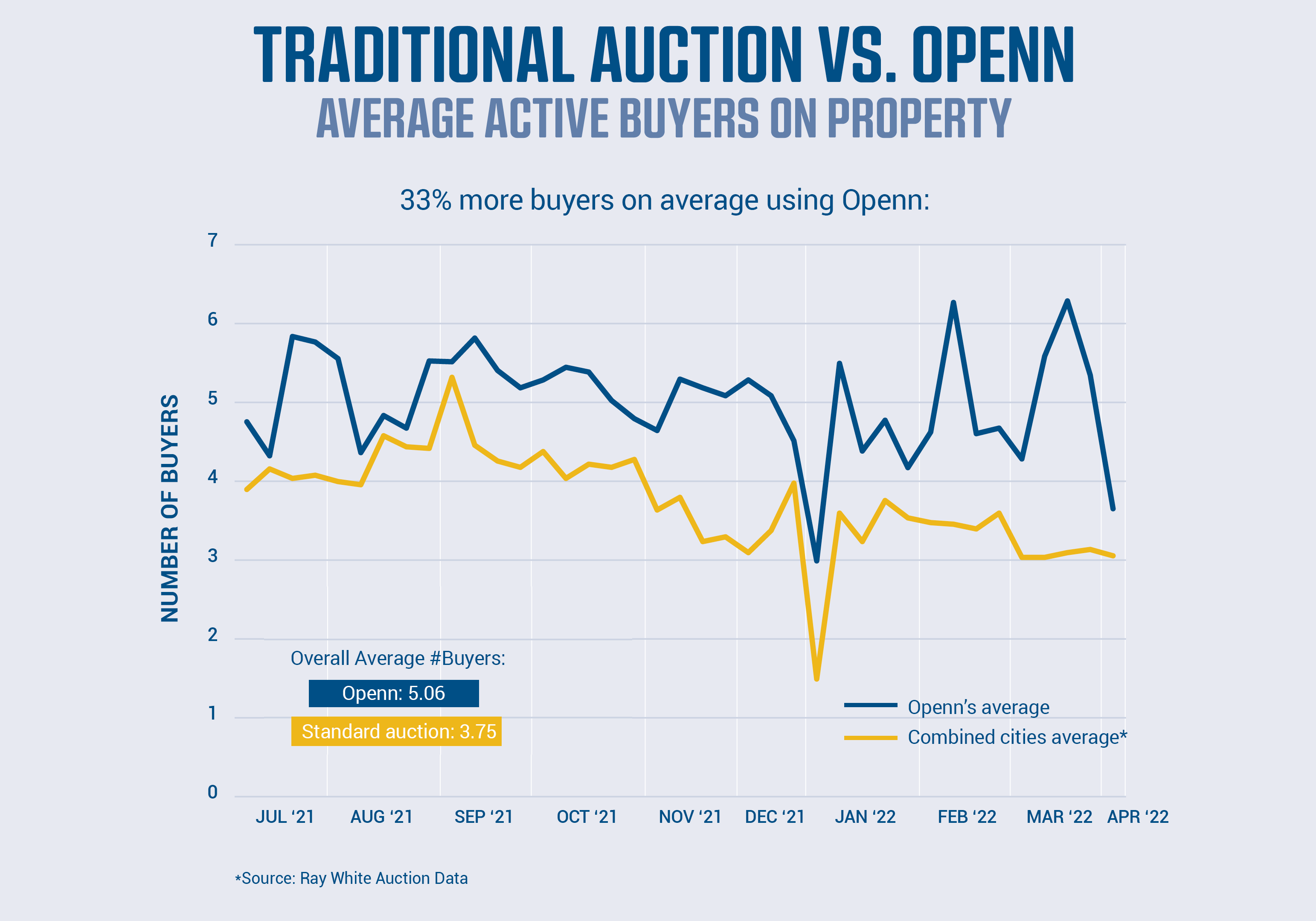 2.) Prospect and sell at the same time
We found 27 per cent of sellers list with an Openn agent after observing a sale on the platform, proving it's a powerful tool to win more listings.
Openn's free observer feature allows you to welcome potential sellers to watch your campaign as it unfolds. They see how many buyers are joining and (depending on the sales settings) they see the offer prices updated in real-time. Leading agents will send an invitation to observe via SMS, email or letter box drop to a street or suburb they seek to increase their market share in.
Watching you leverage modern tools to extract an incredible result for another seller, makes their decision to choose you as their agent much easier. With this digital observation feature, you effectively package your prospecting and selling into one, fail-proof system.
3.) Avoid under and overpricing a property
Data from 2021 demonstrated more than 54% of Openn properties sold above reserve. Many by a considerable margin. Equally, a number had their reserve price reduced. What does this tell us? Pricing a property is incredible challenging and risky.
An underpriced property risks creating a glass ceiling on the achievable price, while an overpriced listing will sit on the market and risk the chance of achieving top dollar through lack of competition.
Openn solves this by allowing buyers to set the price. If the opening price is low – the market will respond by turning up in droves to your next inspection. Alternatively, if it's close to market value, your vendor has proof. The whole process is controlled by the agent, allowing you to be flexible throughout the campaign by managing the minimum bid increment and sellers' reserve.
Referrals are often the largest source of appraisal generation for agents. When listings are tight on the ground, you can't afford to sour relationships with vendors by pricing the property incorrectly.
4.) Manage your days on market
Stale listings are a cornerstone of a cooler market. When properties sit on the market for more than 30 days, it sucks up your energy, sellers become increasingly anxious and often the only solution is to ratchet the price down.
In this scenario, it's crucial to use a process that builds competition amongst buyers in a short space of time, while giving sellers certainty they aren't underselling the property.
This is where Openn's countdown feature is really powerful – it creates a defined timeframe, builds urgency and develops a strong fear of missing out amongst buyers.
Buyers can submit bids and offers from day one of the campaign, giving your seller real-time feedback on how the market is pricing the property. The Openn Negotiation online auction sales method is particularly effective as buyers are pre-contracted, allowing bids to be revealed publicly. If buyer interest starts to wane, sellers can confidently make a decision to sell, knowing optimum market value has been reached.
Adam Whitford of Xceed Real Estate put it best when he recently said: "There is no clearer method in crystallizing the value of a home within a short period of time."
---
What is Openn?
Openn is a transactional tool used by real estate agents to conduct property sales online. It keeps all stakeholders informed about property negotiations through their device in real time, allowing them to make confident decisions about buying or selling.
The platform has taken proven sales methods and added a transparent digital medium for making and receiving offers, and for managing competing bids. This helps agents build more trust with buyers and sellers alike.
Add it to your agent toolkit here.