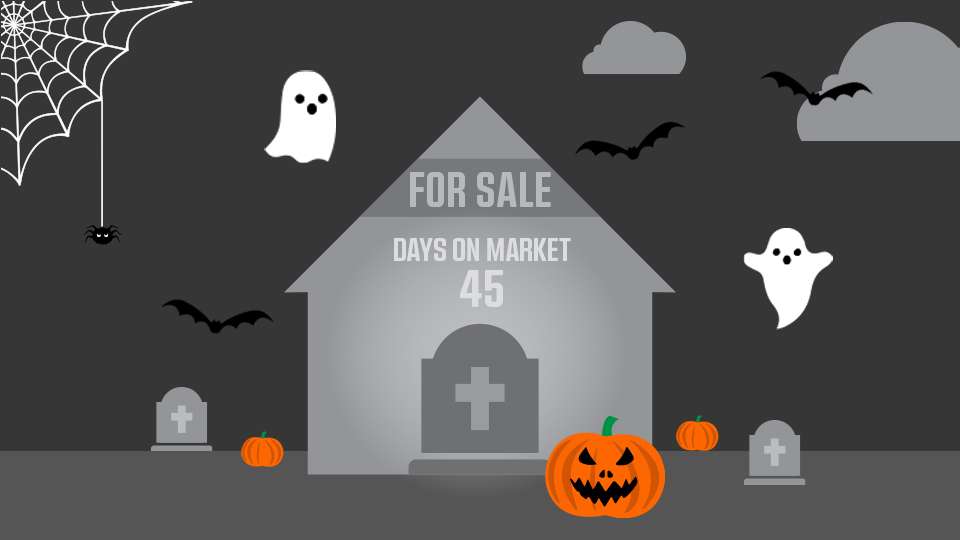 Property prices have declined significantly from their March 2022 peak which, combined with rising interest rates, has made buyers more cautious, creating a domino effect of increasing average sale times.
The longer a property sits on the market, the less people expect to pay. With fewer buyers competing for properties, it's crucial sellers and agents do everything they can to ensure buyers don't get spooked.
In the spirit of Halloween, here are four reasons buyers might be ghosting your listing.
1. Presentation that gives buyers goosebumps
It's an obvious one, but how you present the property – both online and in person – can have a massive impact on the degree of buyer enquiry. Unprofessional photos, unnecessary clutter and overly personalised styling are all factors that create a negative impression of the home.
While a home should be a welcoming space, not a haunted house, it's important to strike a balance between 'lived in' and a blank canvas.
Consider whether your seller could be open to an improved marketing package, including options like professional staging or a higher quality photography shoot. Or have a tough conversation and suggest removing features, items or any skeletons in their closets that don't appeal to wider personalities and tastes.
2. A maintenance nightmare
Nothing makes a potential buyer's blood freeze more than the knowledge they will have a million little things to fix once they've purchased the property.
Tarnished doorknobs, dislodged light fixtures or dusty ceiling fans may seem like small issues, but they will create an overall sense of disrepair in the property.
While some buyers won't find a bit of maintenance too blood curdling, it could lead to lower offer prices as buyers justify the additional hassle and spend to get the property up to scratch.
If buyers aren't engaging, talk to your seller to see if there are any quick wins you can implement – a fresh coat of paint and some minor repairs can go a long way.
3. Sales methods that scare buyers away
While ultimately it is up to the vendor to decide how they wish to sell their property, the sales method can play a significant role in scaring away or attracting buyers.
Most properties in Australia are sold via private treaty or auction. Private treaty sales are run in different ways, with some agents electing to advertise a price or a range, and others opting for a 'no price' strategy or a set date sale.
Advertising a property with no price can be a risky strategy during a cooler market. Buyers are aware property prices are changing rapidly and many will simply not engage with a listing that has no price, for fear of overpaying. The lack of transparency seen in traditional private treaty sales methods often means buyers don't put their best foot forward, fearing phantom competition.
Unfortunately, while a far more transparent sales process, auctions can be a spine-chilling process for many buyers due to the public pressure and scrutiny. Additionally, some of the strict terms and conditions can exclude some buyers, which ultimately reduces competition and the best chance of realising a great price.
Buyers who feel comfortable and confident are more likely to pay a competitive price. For this reason, many agents opt to use digital sales processes that allow buyers to compete more transparently, from the privacy of their home.
4. A fear-inducing price
Undoubtably, price is the biggest contributor as to why buyers may be avoiding your listing like it's the home in The Conjuring. If a well-presented property has been on the market for 3-4 weeks with minimal offers and buyer enquiry is starting to drop off, there's a good chance the price is the culprit.
Overpricing a property is unfortunately common during a shifting market, when there is a lot of elasticity in prices and buyer demand. The net result is the property's advertised price being gradually reduced over time until a buyer eventually engages. The problem with this approach is you miss the sweet spot of buyer interest (1-4 weeks in) and it's rare to achieve a record price beyond that timeframe.
By running a sales process with Openn Negotiation, a method as transparent as a ghost, buyers can start the bidding at any level, before gradually increasing towards the sellers' reserve. Bids can be revealed from as early as day one, allowing sellers and agents to test price points in real-time to better understand where the market sees value. If the bidding increases and buyer interest begins to wane, your seller has proof they've achieved the best result.
Have a property that's been on the market for longer than expected, with buyers or offers that aren't meeting your vendors' expectations? Book a free demo to find out how Openn can help you avoid being ghosted and manage your vendors for success.