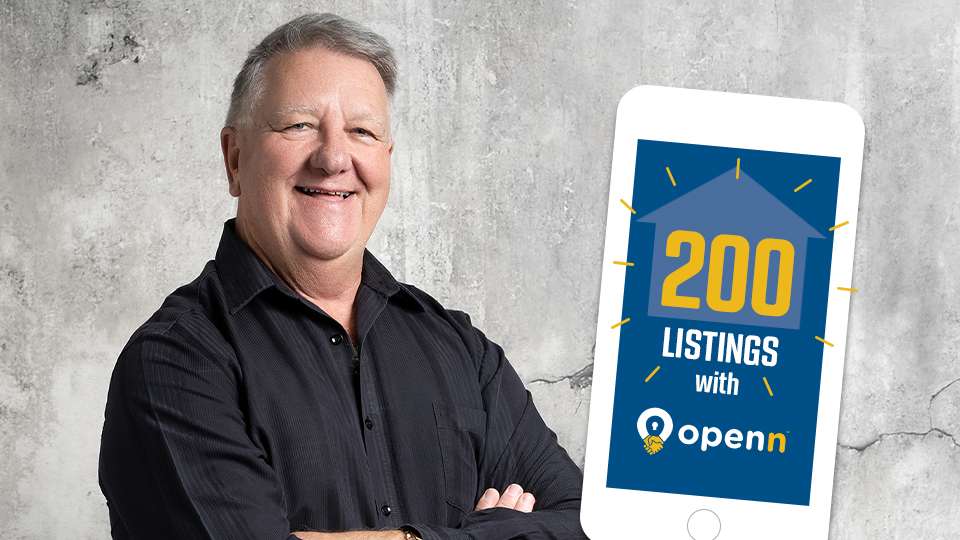 Vivid Property Perth agent Nik Varga has reached 200 listings on the Openn platform – the first agent to do so.
Nik was one of the early pioneers of Openn, first discovering it in 2017 and has achieved outstanding results to date:
$130,564,489 million in property sold

21 median days on market

97% clearance rate
We sat down with Nik to talk about his experiences using Openn, following his 200-listing milestone.
1. What drew you to Openn initially?
"The market in 2017 was actually a lot tougher than now, but what convinced me to try Openn was I attended a presentation in early 2017 by REIWA about Openn and I left it thinking what a great idea. It had the benefits of traditional methods and eliminated a lot of the negatives. The rest is history."

2. For a long time, you worked as a dynamic duo with your daughter Nikki. What role did she play in your success and what's the transition back to a solo agent been like?
"Nikki was initially reluctant about Openn, however after seeing the success of our initial auctions she became converted. She was a very big part of our success with Openn. We worked unbelievably well together, a bit of the old school with the new school. Nikki has recently decided to take some time out from Real Estate to focus on being a Mum as her youngest starts full time school next year, so she'll be greatly missed! It's only been a short time on my own, but Nikki is there if I need help and I also have a wonderful assistant in Jessica who I would be lost without."
3. How has Openn improved your business?
"I have always had an excellent reputation, however we are now known in the area for using Openn more than anyone else. I do believe that some sellers have come to us because they like the concept. We use our successful auction timelines at appraisals so sellers can see the excellent results.
"Our average days on market is also currently sitting around 15 days, with a high success rate. Sellers have loved the system – we have had many tears in the office due to getting substantially higher prices than they hoped for. Buyers love it as they can see what other buyers are prepared to pay, and can up their bid if necessary."
4. What's been your greatest moment using Openn and why?
"We have had many many fantastic results over the years. However, the one that really stands out for me is probably 39 Malindi Street in Willetton. We had 78 families through the first home open and multiple bidders registered, causing it to reach reserve that day. We brought the auction forward to 4 days after the opening and sold it for $150,000 above reserve. Needless to say, the sellers were more than happy."
5. The market is shifting right now, buyers are more hesitant and vendor discounting is on the rise. What's your advice to agents that are struggling to adapt to the changes?
"Very easy – use Openn where possible. I tell my prospective sellers that Openn eliminates any question mark as to what their home is worth. Buyers can see what other buyers are prepared to pay, so eliminates their fear of paying too much."
6. How do you incorporate Openn into your listing presentations?
"We show all sellers the various methods of sale and discuss the various advantages and disadvantages of each method. Having huge success with the system does give us a point of difference. We can confidently display the success of the system by showing the timelines of several previous sales."
7. What's the best piece of seller feedback you've received recently?
"I sold a property recently via Openn for a vendor who was based in another state. Naturally not being there during the selling process can be stressful, but we ensured we kept them in the loop every step of the way. They were also able to watch the final bidding stage from their device which they really appreciated. He sent me this feedback after the sale:
"Thank you very much Nik, and everyone who helped us to make the property sale a smooth process. Nik's team was professional, efficient, and always quick to address any questions or concerns. The sales results from using the Openn Negotiation Online Auction were well above our original expectations. Would highly recommend this sales method to anyone contemplating selling." - Shaun
Want to learn more about Openn? Book in a free demo to find out in 15 minutes or less how we can help you attract more buyers, sell faster and get more referrals.