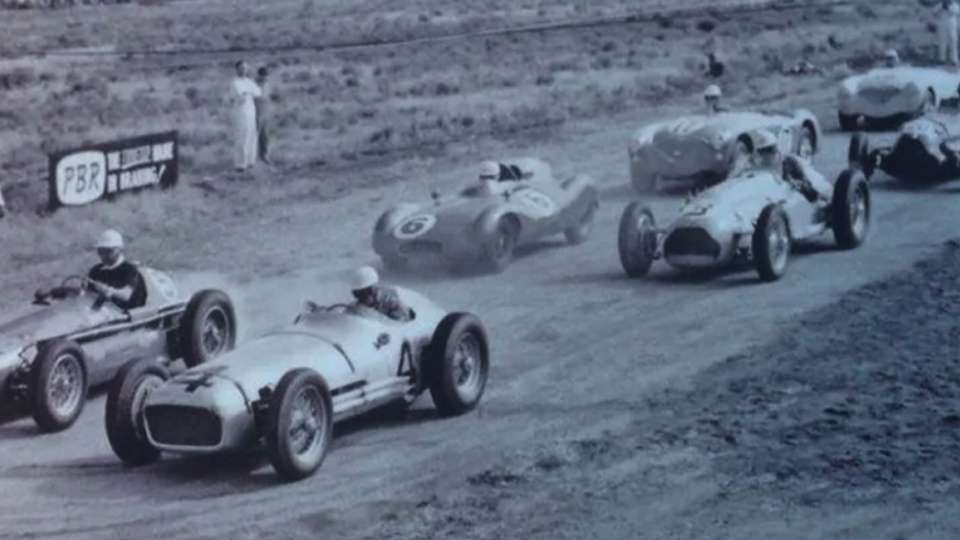 A Grand Prix race track and a 93-year-old seller is not a combination you'll hear very often in real estate.
When Nigel Christie of Harcourts Wine Coast was approached by an elderly vendor to sell her block of land in Port Wakefield, South Australia, he didn't realise he'd be selling a slice of history.
"She actually turned around and said to me, 'By the way, there was a Grand Prix actually on my land' and I didn't believe her!" said Christie. "But then I checked it out and in 1955 Jack Brabham won his first Grand Prix on this land."
To hear Nigel Christie recap the exciting sale, watch the video below.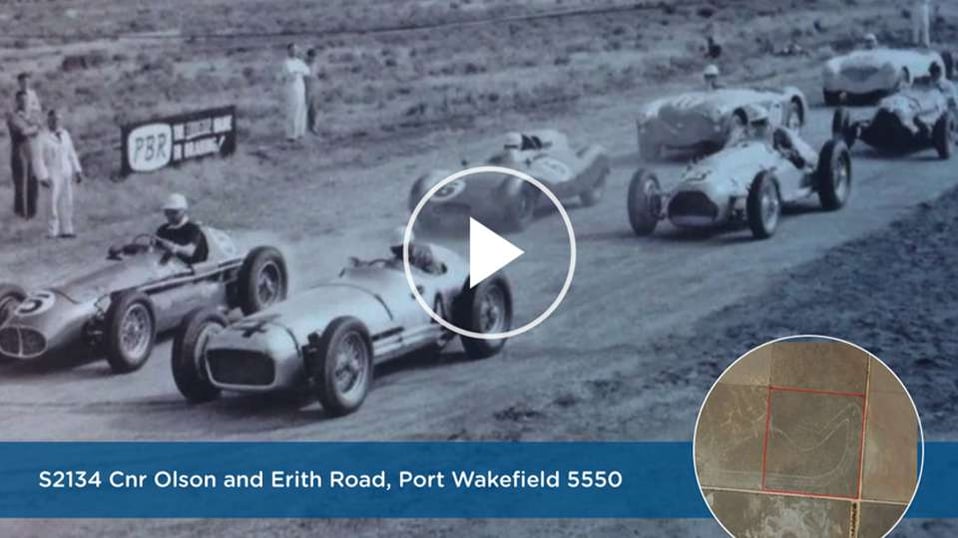 Given his sellers age, Christie was initially nervous to pitch using Openn Negotiation — a flexible terms online auction platform — to sell the unique property.
"A 93-year-old lady, I thought she'd say no way. But, in fact, she turned around and said, 'That sounds like a wonderful idea. It's so transparent, that's terrific.' "
Pre-contracted buyers can start bidding from day one of an Openn Negotiation campaign, and the process maximises the number of buyers who are able to take part, by allowing buyers with flexible terms to participate and providing the ability to bid anywhere, anytime.
Once approved by the seller on the app, the buyers can see the current bid, how many bidders there are and exactly how long until the final bidding stage.
Christie had a whopping 11 qualified bidders on the property, with the opening bid coming in at just $5,000.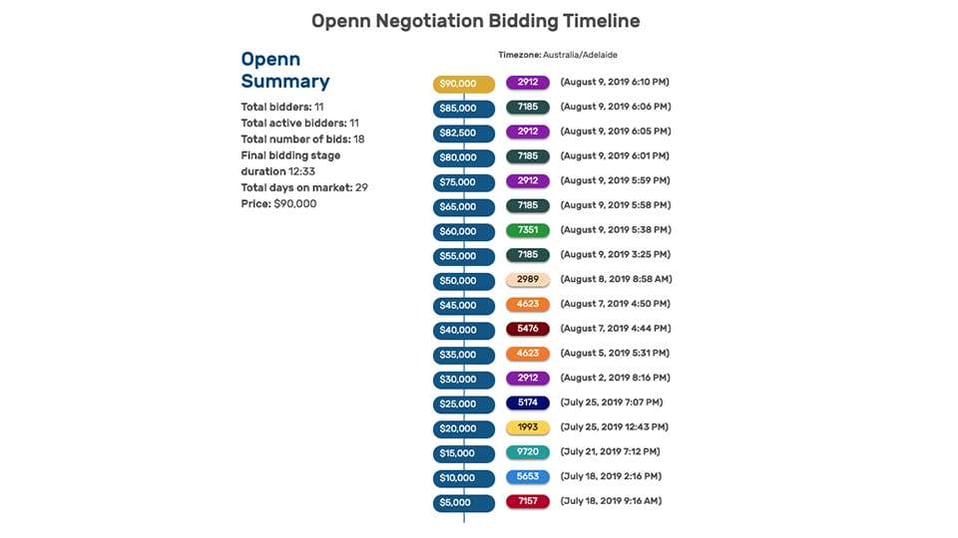 During the final bidding stage, the winning bidder knocked out the competition with a final $5,000 bid, resulting in a sale price of $90,000 — 10 per cent above price expectation.
The Openn Negotiation technology meant the successful buyer could bid live on the property, despite being located thousands of kilometers away from the Port Wakefield site.
"He was sitting in Victoria. So, he hadn't even come over and had a look at it. He sat in Victoria and he bought it sight unseen," said Christie.
"If we had done it on the front lawn or any other way, there was no way that was going to sell to him. We would have had someone in Adelaide that probably would've only paid $50,000 for it. It was amazing."
Christie also sold the elderly vendor's own home, 13 John Street, Mansfield Park, using Openn Negotiation.
The successful buyer of the Mansfield Park property was initially concerned he wouldn't be able to participate in the auction because he would be in Egypt at the time of the final bidding stage.
"I said to him, 'Do they have internet in Egypt? Well then you can bid,'" Christie explained.
The Egypt buyer beat out 4 other bidders to secure the property for $375,000, with Christie's seller watching the sale go down in real-time.
"In the nursing home, it's just a little room, no desks, no big screen TV. So I had the iPad sitting in front of her and I had my computer sitting on a foot stool," said Christie.
"It was her home for 62 years. She was watching with her daughter. They were sitting there, hand-in-hand, and as the bids are coming through they were bawling their eyes out. It was beautiful."
The result was a huge relief for his seller who was relying on the proceeds of the sale, together with the $90k Port Wakefield result, to fund her aged care requirements.
"She got $375K plus the Port Wakefield sale, so she was able to pay for the nursing home and get a bit of extra spending money. She was over the moon," said Christie.
Christie discovered Openn Negotiation in July 2019 and says the sales system offers huge benefits to agents.
"I read a book recently that said, 'Better system, better money. Much better system, much better money,' and I've just found the much better system that I've needed in my real estate career," he said.
"I've always been looking for it - 25 years in real estate and this is the much better system for today."
Want to find out more about Openn Negotiation?
Every property has different needs and demands. The smart agent makes the most of every tool at their disposal.
To add Openn Negotiation to your sales kit, check out our training session. Head here to find out more and to register.
Related Articles
Success Stories
Is this a better way to sell land?
Selling land in a competitive market can be an overwhelming task. Whether it's a newly subdivided lot or a whole estate, the stakes are high when it...