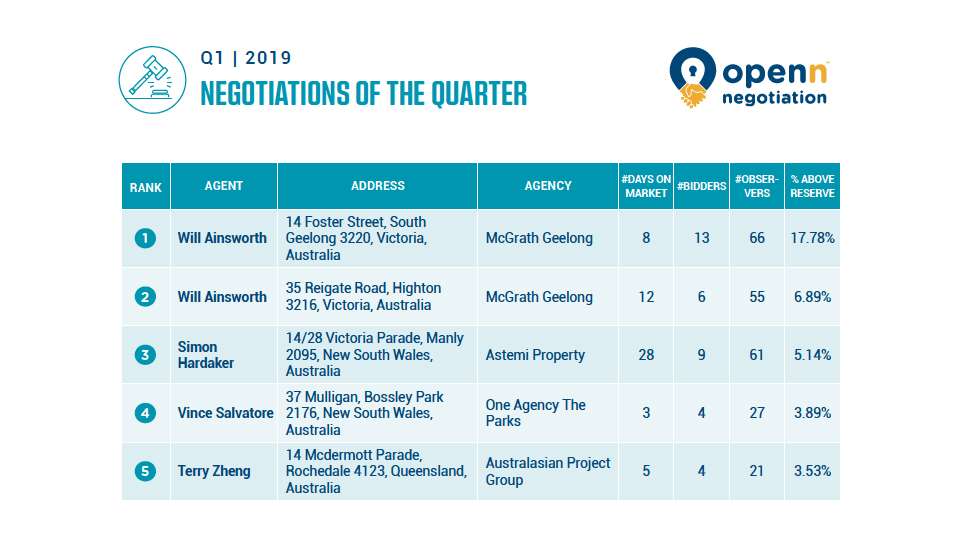 2019 has brought with it more twists and turns for the Australian property market, and while some areas are beginning to recover from slumps or starting to perform well, others are still struggling with less demand, more time on market and nervous buyers.
In these conditions, it's key that agents take advantage of all the tools at their disposal.
Agents using the Openn Negotiation platform have reported some strong results in the first quarter of 2019, with one agent in particular having an incredible run over the past three months.
Despite only discovering Openn Negotiation at the beginning of July 2019, McGrath Geelong's Will Ainsworth topped the ladder across multiple categories in the platform's quarterly report.
He took out both the top spots in Negotiations of the Quarter, with the winning property in Geelong spending just eight days on market and selling for nearly 18 per cent over the reserve. With that same property, Mr Ainsworth topped the Most Bidders on a Property category too, drawing in 13 qualified buyers.
Mr Ainsworth also managed to take third spot in the ranking for Lowest Days On Market, the top spot in Highest Value Of Property Sold and top place in Highest Number Of Listings.
Talking about his success with the platform and the quick way he incorporated it into his business, Mr Ainsworth said it came down to doing the best thing for his business.
"I listed 16 properties in September for Openn Negotiation. I have so much renewed energy and enthusiasm purely because of this wonderful way to sell real estate," said Mr Ainsworth.
"If I'm going to do something, then I'm going to be the best at it. I'm not going to just try one, I think within a week I had booked in 6 or 7 of them."
Despite Openn Negotiation being founded in Western Australia and having a stronger agent presence in that region, the top five agents in the category of Negotiation of the Quarter were from the East Coast, proving the difference the platform can make it any market.
Among those leading the charge on the East Coast is Simon Hardaker. Not only did he come third in Negotiations of the Quarter with a property in Manly, the Astemi Property agent also claimed third in Highest Value of Property Sold, putting him ahead of the pack in New South Wales.
The property which landed Mr Hardaker third place for the Negotiations of the Quarter, which sold after 28 days on the market, was going to launch earlier, but taking advantage of a hot point in the market and using the Openn platform helped secure a great result.
"We were going to launch the property a couple of months earlier when clearance rates were 50 per cent, but luckily we launched right in a small window where our clearance rates had jumped up to around 80 per cent, plus there was a lower level of stock available," said Mr Hardaker.
"This combined with the Openn online bidding app helped us turn analytical buyers into emotional ones which helped drive the price above what we and the vendor expected. We also had three buyers bidding from Perth, Indonesia and Singapore which all contributed to a higher result.
"The vendor loved the system and was very happy with the over reserve sale result."
Another Openn Negotiation star, topping the Lowest Days on Market category with just 13 days, was David Villarosa, Director of Villarosa Real Estate who said the Openn platform has markedly improved his business.
"Using Openn has had a notable impact on creating urgency with buyers, which is incredibly helpful in challenging market conditions. Most of my negotiations achieve a great outcome on day eight," said Mr Villarosa.
Allison Miller of Summit Realty South West proved market conditions don't need to be the decider of your success. Her local area of Bunbury in WA has an average days on market of over 100, but she landed on the Openn Negotiation Lowest Days on Market tally with an average of just 37 days. Ms Miller also came second in Highest Number of Listings and has performed very well in Q1 for an agent working in a regional area.
"Certainly days on market is really pushing out in Bunbury. It's considered pretty well completely acceptable to have 100, 120 days on market," said Ms Miller.
"We were starting to find it really hard, when you make your weekly vendor calls. You've got nothing to talk about. We needed to find some sort of strategy that introduced a degree of urgency, to get people moving."
Ms Miller says the Openn Negotiation platform can't transform a bad agent into a good agent, but it can significantly help offices struggling in a slow market.
Coming in second place for Most Bidders on a Property was Harcourts Wine Coast agent Nigel Christie, with 11 qualified bidders on his property in Port Wakefield — a former Australian Grand Prix race track. Using the Openn Negotiation technology, Mr Christie was able to watch the sale of the property with the elderly owner, live from her nursing home.
"I had a laptop in front of me and an iPad in front of her. She and her daughter were holding hands in the final minutes. It was so sweet," said Mr Christie.
To see the complete list of outstanding agent results, download the Openn Negotiation Quarterly Report here.