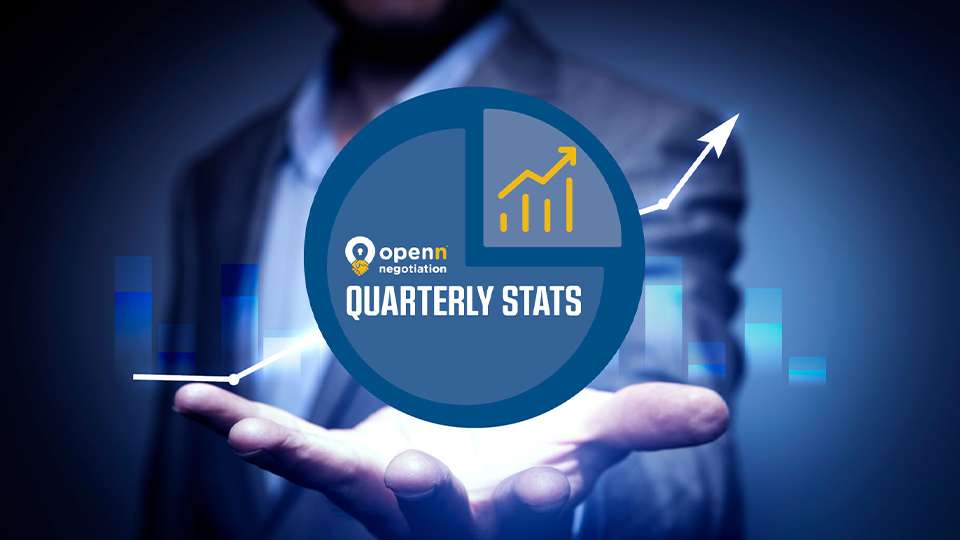 Online property sales platform, Openn, has revealed its top performing agents for the first quarter of 2020/21, with agents across the nation reporting strong results in challenging markets.
"Openn has proven to be a great tool that agents can call upon in any market, these results are a testament to that," said Peter Gibbons, Openn's Managing Director.
Ray White Dalkeith Claremont had a standout quarter, with Principal Vivien Yap claiming the 'Highest Number of Listings' and 'Highest Value of Property Sold' categories. Emma Milner of the same agency took out 'Most Bidders on a Property' with 13 qualified buyers on 6 Kenny Drive, Duncraig.
The Openn platform integrates with DocuSign, which made the buyer registration process a breeze, said Ms Milner.
"My vendor was able to approve bidders easily on his mobile phone while at work," she said. "We created such an exciting, large and active bidding group that bids were coming in during the registration stage, which then turned into a bidding frenzy during the final bidding stage."
One of the most notable performances this quarter came from Wes Thornton of Real Estate Geelong. In addition to taking the title of 'Openn Negotiation of the Quarter' with the sale of 13/209 Melbourne Road Rippleside Victoria, Mr Thornton placed in the top five for 'Most Bidders on a Property' and 'Lowest Days on Market'.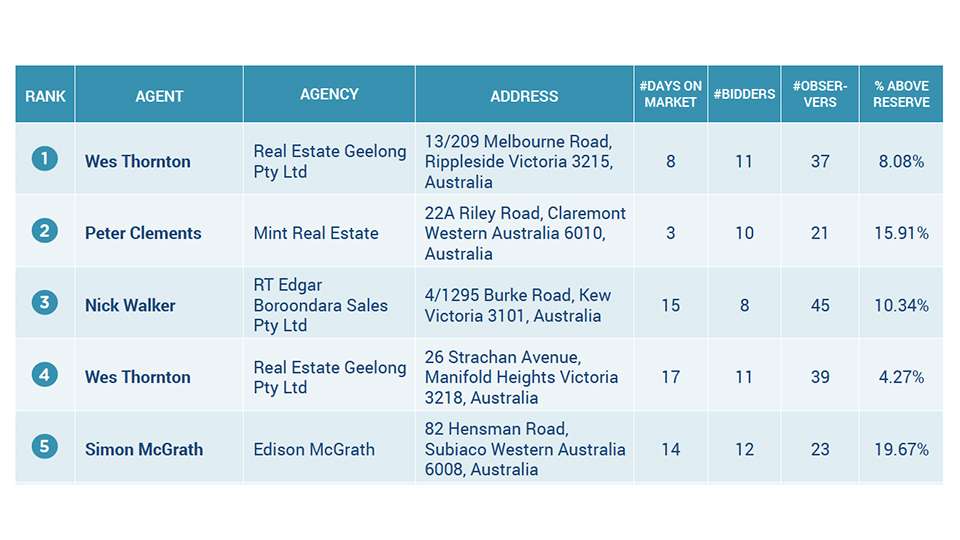 Top 5 Openn Negotiations of the Quarter (July – September)
Mr Thornton's 'Openn Negotiation of the Quarter' sale attracted 11 bidders, 37 observers and sold above expectations in just 8 days – a result his seller was thrilled with.
"The vendor couldn't believe it, sitting at home watching the price soar, bid after bid. 65 bids was amazing," he said. "The day we held the final bidding stage, it was raining sideways, so no one would have turned up for a traditional auction, but they were comfortable to bid from home using Openn Negotiation."
Mr Thornton credits Openn's ability to allow flexible buyers to participate as the key to achieving great results for his sellers.
"I've only had four cash buyers on all 19 Openn Negotiation properties that I've sold. All the other buyers (88 in total) were subject to finance, and so none of them would have been able to bid at a traditional auction for the property."
"In one instance, a subject to finance buyer paid $65,000 more for the property than the cash buyer could afford. If it wasn't for Openn's flexible terms and the property was sold via traditional auction instead, that $65k wouldn't now be sitting in my vendors' pocket," he said.
Mint Real Estate Director, Peter Clements, took the top spot for 'Lowest Days on Market', achieving an average of 4.7 days in his local area of Claremont, which forms part of Perth's affluent western suburbs clique.
Mr Clements said the honesty of the Openn process, and the lack of stock in the suburb, helped generate excellent results in such short time frames.
"Buyers can see exactly how many other buyers there are and what they're paying, so they are comfortable paying more than expected because they know there is no bluffing from the agent and they just need to have the highest price to win," he said.
"Price determines the length of an Openn Negotiation and often within three days the price has already gone much higher than the owners' expectations. Smart buyers realise there is no advantage in waiting to get involved, so they put their price up to reduce their competition and shorten the campaign period."
To view the complete list of top performing agents, download the quarterly report here.