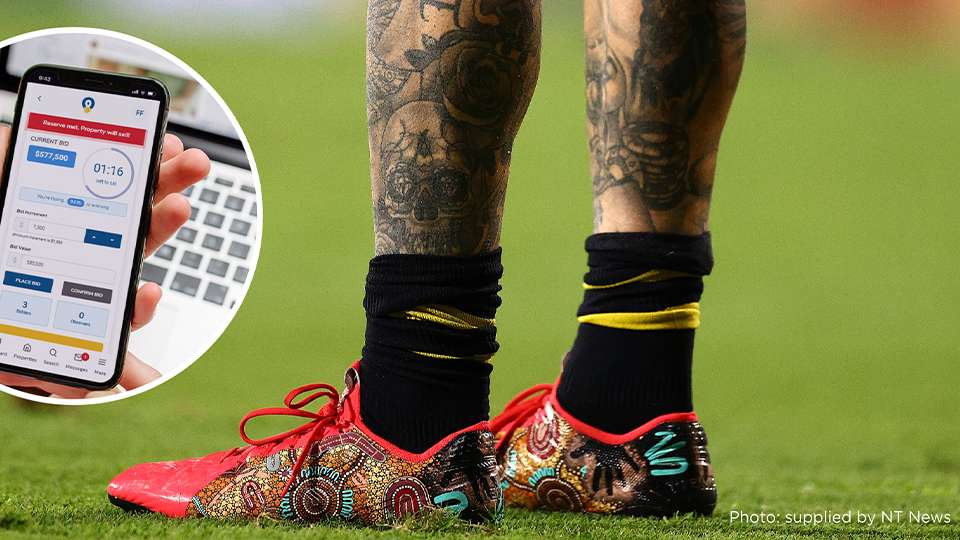 Richmond AFL stars Dustin Martin and Jack Riewoldt have kindly donated one of their boots worn at the historic '2020 Darwin Dreamtime' match to raise money for St Mary's Football Club NT.
Jack Riewoldt kicked two goals in the biggest game in Northern Territory history whilst Dustin Martin had 30 disposals and was one of the best players on ground.
The boots will be auctioned off through Openn Negotiation – a platform that ordinarily facilitates the transparent sale of properties online.
One of St Mary's strong supporters and long-term sponsors, Daniel Harris (REINT Auctioneer of the Year for NT 2017-2019) from Real Estate Central, said he is thrilled to be at the helm of the online auction.
"The Openn Negotiation process is extremely effective in getting the best price for a property. So we thought, why not use the technology to secure an outstanding result for these one-of-a-kind boots painted by Indigenous artist Emma MacNeill," Harris said.
Buyers can start bidding on the boots from Monday 31st August through the Openn Negotiation platform.
The boots have been autographed respectively by premiership stars Jack and Dusty and will be individually framed with photos from the iconic match, with all funds going towards junior development and facility upgrades at St Mary's Football Club.
To find out more, go to Real Estate Central or St Mary's Facebook page. To become a bidder, head to the Openn Negotiation website, or contact Daniel Harris directly on daniel.harris@recentral.com.au