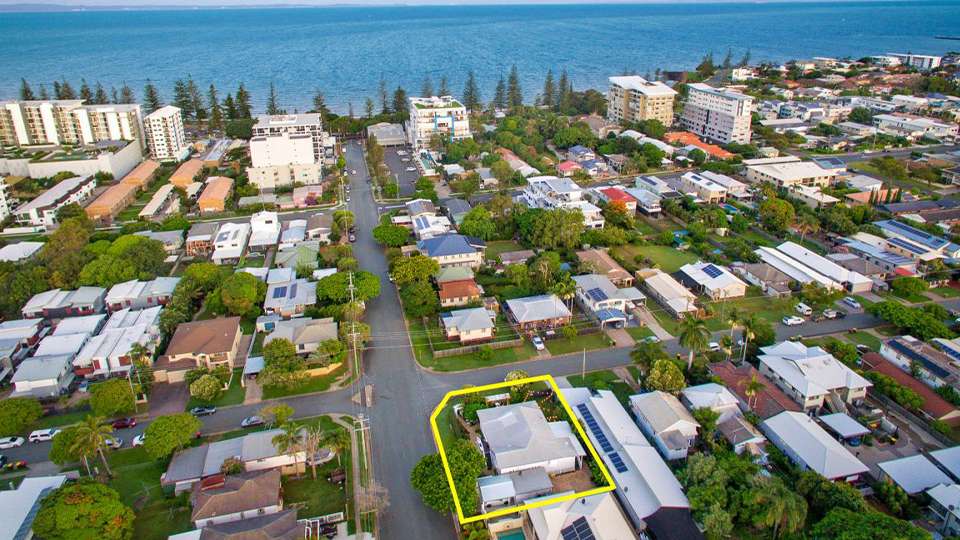 A property in Scarborough, Queensland has taken out the record for the greatest number of bids placed in an Openn Negotiation sale - with 67 total bids made in 11 days. The house located at 133 Turner Street settled earlier this month for almost $200k above reserve.
The agent at the helm of this sale was Brendan Homan from Innov8 Property.
Brendan Homan has been in Real Estate for 26 years — but in this time, he has never run a traditional auction before.
"I'm not a big believer in auctions in Queensland," he said. "It just rules out too many buyers as they have to be cash-unconditional terms.
"However, I have a friend in Western Australia who is an agent and he uses Openn Negotiation quite a bit. I followed his sales for a while and I could see the benefits in the system."
Brendan then completed the training for Openn and was confident the process would work well in his area.
"When the Turner Street property came up, I knew Openn Negotiation was the best method. I pitched it to the sellers and they immediately told me that the process 'just made sense'. As recent buyers themselves, they saw the benefits that transparency offered both them and their potential buyers," said Brendan
The Openn Negotiation process allows buyers with flexible terms to bid (subject to the sellers' approval), which creates opportunities for more interested bidders to participate; therefore, it increases competition.
"On Thursday, the Openn Negotiation bidding went live. On Friday night, it went wild! We hit the reserve price even before the final bidding stage and it took off from there. By Saturday night, it was $60,000 over reserve. The sellers were astounded."
Monday night was the final bidding stage and Brendan still had four buyers bidding.
"It was like Family Feud! The competition was intense. We were receiving up to 5 bids per minute. The buyers had a no-giving-up strategy, and before we realised, the number of bids shot up to a total of 67."
"I even paused it at one stage because it was getting to $170,000 over reserve and I called the bidders to make sure that they had the finances to purchase for the amounts it was reaching."
The price finally settled at $898,200 – which was almost $200,000 over reserve.
Here is how the online bidding progressed over the 11 day campaign: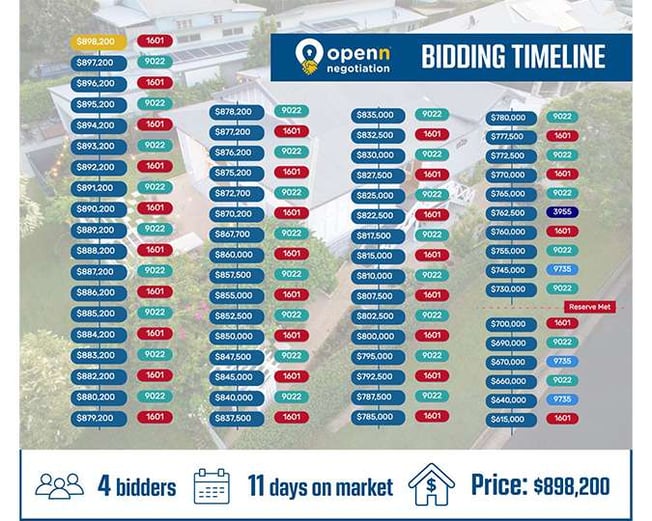 "When it stopped, the sellers looked at me, and were like: 'what the heck just happened?'," Brendan said.
"By seeing the competition in real-time, the online bidding platform gave the buyers confidence to up their bids.
"The successful buyers actually turned up to the sellers house after it was all over and ended up being invited in to celebrate! I've never seen anything like it."
Would another sales method have achieved this result?
"There was no chance we would have got this result if this was a traditional auction or private sale. Not a chance. We just wouldn't have had this many buyers involved," Brendan said.
"Imagine trying to run a sale with 67 offers! It's not possible. But with Openn, they just push a button until they're satisfied they've reached their limit."
The role of the agent stays the same
"It's wrong to say there's no need for agents in this kind of online auction. Agents still have to do all the relationship work, especially when it comes to qualifying legitimate buyers and preparing the whole selling process," Brendan said.
"But Openn actually gets the sellers and buyers more involved. There's more transparency and we can talk to them more. When I explain Openn to other agents, I tell them that it's a hybrid between traditional auctions and private sales. It allows true market competition to determine the price."
Want to know more about Openn?
Managed entirely by a real estate agent and auctioneer, Openn is the most reliable and transparent online method of selling property in Australia.
An Openn Negotiation is conducted entirely online, where pre-contracted buyers can start bidding on a property from day one.
The leading bid can be shown on all real estate advertising portals - even if it is lower than what the seller wants.
The sales process is very flexible as vendors can choose to allow buyers with conditions to participate and bring the final bidding stage forward to sell the property quickly.
All bids are binding. So, once the hammer has fallen, the auctioneer has the authority to sign the final contract and complete the sale.
To add Openn to your toolkit, register for a training session here.