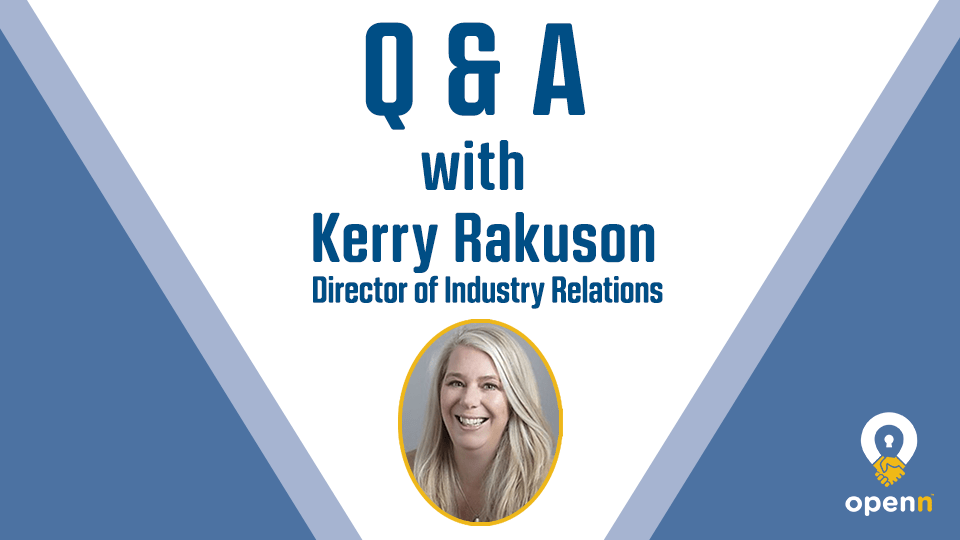 We sat down with Openn's Director of Industry Relations, Kerry Rakuson, CAE, to learn what the market can expect from Openn's digital platform, its impact on North America, and its multiple benefits to the agent and the consumer. Kerry has over 25 years of experience in business development, including 15 years in the real estate industry.

Openn: How did you hear about Openn, and what drew you to the company?

Kerry: I was introduced to Openn last year through the REACH Canada program, where I was a mentor. I remember the first time I met Eric Bryant, our Director of Operations in North America. His infectious passion for Openn excited me. Fast forward to a few months later, and I became just as passionate about being part of a fundamental change in the industry. So, I joined the team. Openn was designed to keep the licensed professional central to the transaction, and this aligned with my values of supporting success within the industry. The largest transaction of a consumer's life requires the skills and knowledge of the local real estate professional.

Openn: How do you think Openn will impact or change the real estate industry in North America?

Kerry: Openn will provide an opportunity for the industry to reframe the "trust conversation" with the public, media, and regulators while supporting agents central to their relationship with consumers. Buyers and sellers won't be left wondering if they have all the information or, more importantly, if all offers were presented. With Openn, there's a balanced approach to the offer acceptance process that historically has been heavily weighted towards sellers. As the dream of homeownership becomes increasingly challenging to secure in many markets, buyers ask for more insight into what is happening through the offer phase. On the flip side, it arms the industry with a new collaborative educational tool that strengthens the relationship with its clients.

Openn: Do you think a platform like Openn will end the media-driven messages about "blind bidding" or deceitful practices?

Kerry: This is one of the great things about Openn. When any transaction perceives that bad acting can happen behind the curtain, it allows external parties to plant seeds of untrust and build a narrative about the industry. Openn will empower the MLSs, boards/associations, brokers, and agents to shift this dialogue and ensure the consumer understands that they embrace transparency and equality.

Openn: How does Openn benefit MLS executives and brokers?

Kerry: The market intelligence that is being gathered will provide new insight for MLSs. This information has never been captured on an aggregate basis, and it will give new insights to share with their subscribers on market conditions. For brokers, the same market information will provide value, but the efficiency piece will also be present for their agents. Their brand sets them apart because their agents use state-of-the-art transparency tools. For both groups, there is the audit trail. We know there are bad apples in the barrel and sometimes frivolous complaints. With Openn, an audit trail supports any professional standards process. There is also the ability to generate leads from public-facing portals, which can benefit all end-users at the MLS and broker level.

Openn: What about buyers and sellers? Why should they choose Openn?

Kerry: Information for sellers and buyers requires interpretation and strategic positioning advice, and the real estate professional should always be their trusted advisor. For sellers with an informed buyer, there is a very organic process in attracting more offers because the buyers have better insight into what needs to come to the table to compete for their dream home. Sellers will have the opportunity for more engagement with qualified buyers who are in the correct category. Buyers who don't fit the "buying category" will have information that allows them to understand this fact and move on to search for the correct type of home. This helps them avoid waiting for the rejection of their offer. In a down market, the first offer is often the hardest to generate and often a "lowball" offer.

From the product's six years of experience in Australia, we know that in down markets, Openn Offers generates more activity on a single property by attracting multiple offers based on buyers coming to the table with fair market offers.

Openn: What separates Openn from other prop-techs out there?

Kerry: Openn is committed to keeping the agent central to the transaction. The platform also operates as an agent-to-agent tool, meaning the listing agent can communicate with the buyer's agent during the process. Our US patent outlines the requirement to have a professional licensee involved in the offer and acceptance process. So, consumers cannot utilize the system without that professional.

Openn is tried and true technology. While new to North America, we are working with the industry to ensure it meets this market's offer/acceptance workflow. The company's 6+ years of experience in other global markets provides an excellent foundation for our American and Canadian launches.

Openn: How would you pitch Openn to someone who prefers traditional methods of sale?

Kerry: Simple. Remember when you took the listings book with you in the back of your car, and you didn't know what was happening in the market until you got a new book? Then it was digitized, but you had real-time data to assist in educating and collaborating with your clients and consumers. Think of Openn as that final piece of the puzzle for digitization and market intelligence. The offer and acceptance process deserves the same efficiency as the other processes. Openn will do this. The industry deserves a tool that keeps pace with the consumer's expectations and zest for more information. Openn brings that level of transparency and allows for increased equality for all parties within the offer and acceptance process.

To learn more about Openn, sign up for all the latest news and updates.