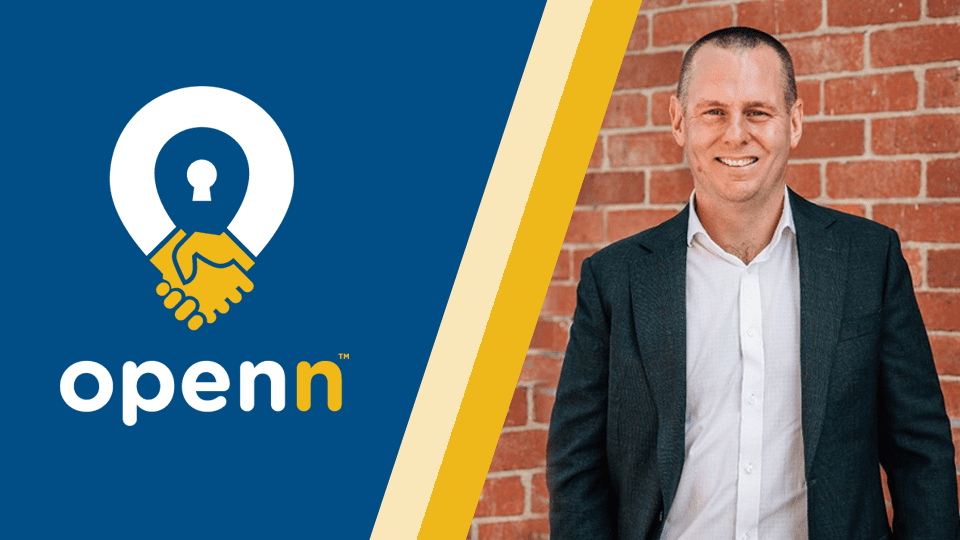 Meet Will Ainsworth, a Real Estate professional of 17 years from Australia. Throughout his career, Ainsworth prides himself on constantly revolving around transparency within his real estate practices. That is why his interest was piqued when, at a real estate conference in 2018, he noticed a big sign displaying the word "transparency" at a booth for the business, Openn. When a team member explained to Ainsworth how the Openn technology played a part in the real estate transaction while also providing transparency to all parties, he was sold. Ainsworth believed the Openn platform would allow him to build trust with buyers and sellers by giving them the full scope of the transaction. To Ainsworth, providing his clients with the full range of the transaction was the point of difference in the market between himself and his colleagues.
First mover advantage
Being an early adopter of new Proptech, Ainsworth predicted he might be met with some hesitancy from his clients & colleagues. Although that was on his mind, Ainsworth notes himself as a firm believer in overcoming challenges, and he did not allow that to sour his vision of implementing Openn in his transactions. Ainsworth knew that by adding Openn's platform to his tool kit, he could help clients achieve the success that his colleagues could not.
"Would you like to guess what you need to pay
or know to the dollar what you need to pay?"
He saw it as a game-changer. All he needed to do was ask buyers, "Would you like to guess what you need to pay, or know to the dollar what you need to pay?" Straight away, this question disarmed the buyer of hesitation. The transparency that Openn provided all parties proved to be a unique value proposition for Ainsworth to offer his clients. Utilizing the Openn software helped Ainsworth remove fear from buyers of overpaying. He shifted the focus of buyers and sellers from analytics and recent sales to competition, social proof, and the potential of missing out on real-time sales price discovery.
Openn works in any market.
Over time, Will observed the statistics on properties sold via Openn versus those that were not. To his amazement, in a hot market, there were noticeably fewer days properties were on the market. Even in a flat market, the average days on the market was 65 compared to the 15 days on market Ainsworth was accomplishing. It seemed like he couldn't keep properties on the market long enough. Buyers were excited to participate; potential sellers wanted this experience for themselves. Ainsworth's only genuine concern was ensuring enough buyers could participate and that the sellers were getting the best out of the buyer's market.
A whole new level of efficiency
By using Openn, Ainsworth was given his time back. He allowed clients to make decisions and get involved in transactions then and there. This made him the ultimate professional; he could build trust with his clients while negotiating within the platform. The efficiency that the platform provided made transactions easy with true convenience. He no longer needed to split focus from the buyer or seller because the platform corresponded with all parties involved.
Testimonials = Listing Presentation Wins
Not only did Ainsworth benefit from using Openn with current sales, but he also illustrated a story to potential new sellers and buyers. As a result, listing presentations became that much easier."
"Would they want to sell the standard way, or would they want the opportunity to get the most money?"
Ainsworth invited everyone he knew to follow and watch his transactions in real-time. This made potential clients imagine if it were their buying or selling experience. Would they want to sell the standard way, or would they want the opportunity to get the most money? This line of thinking made it possible for Ainsworth to bring his observers from each transaction to the next. Eventually, Ainsworth fielded many questions of interest about using the Openn platform.
Transparency is King
Ainsworth knows that by utilizing Openn, he has the best shot at achieving his goals of selling houses efficiently for as much as possible while living a life outside of real estate Openn's efficiency allowed him to sell anywhere, anytime. As a result, he has freedom in his personal schedule while doing the work he enjoys—advice from Ainsworth to potential adopters of Open":
"Give it a go. Don't try to find reasons why it won't work. You can't go wrong with Openn—Transparency is King."
To learn more about Openn, sign up for all the latest news and updates.